Video warriors gathered in the OkamiCon 2012 "Dealer's Room" at the CasaBlanca on Saturday. May 19, to observe and compete in the K.O.M.A. Battle Tournament, which featured games, including Mortal Kombat, Skullgirls, Soul Caliber 5, Street Fighter X Tekken, The King of Fighters XIII and in this photo, Ultimate Marvel vs Capcom 3.
Jeremy Dollar of Grace City Comics in Las Vegas was one of the vendors at Saturday's OkamiCon 2012, held in four meeting rooms at Mesquite's CasaBlanca Resort and Casino. But unlike some of the vendors who displayed demonic monsters, Amazon warriors or sci-fi aliens, Dollar added faith-based, comic art to the classic comic editions he had on sale.
I loved comics when I was a kid –Superman and Batman, the big stars of DC comics.
Before the draconian comic book code was passed in the mid 1950s, I read the old Mad comic book, before Alfred E. Newman wisely morphed into a magazine format, not covered by the content-restrictive code.
Then later in my 20s I became hooked on Marvel Comics: Thor, who shared his issue with Dr. Strange; The Hulk; Fantastic Four; the Black Widow, Hawkeye, Captain America and Nick Fury of S.H.I.E.L.D., as well as the X-Men, more characters than I can now recall.
In the 1980s I saw my first "Heavy Metal" edition. The full-color art on slick glossy pages with adult content blew me away. Comics had grown up.
My oldest son sent me a copy of the "Dark Night" years late – a Batman comic that rivaled the art of "Heavy Metal," which had become the new norm for the cutting edge of the industry. Batman was middle-aged and a little chunky around the middle. His years as a vigilante had gotten to him, turning him bitter and against the legal system he formerly supported. Now he saw that swift justice was done to evil-doers without worry that a liberal court or over-crowded prison system would put the bad guys back onto the street. The troubled and depressed Dark Night in the publication bore little resemblance to the former DC hero and none, except the cowl, cape and utility belt, to the movie character in the film that shared only the same title.
But my interest in comics waned. It's been decades since I bought an issue. I do tend to watch the special-effects masterpieces being cranked out byHollywoodand Marvel starring all of Stan Lee's classic characters.
The influence of Japanese art also has cooled my fervor for comics. The little anime art I've seen seemed to bear too much resemblance to the now-ancient, Saturday-morning TV fare of Speed Racer or Astro Boy.
So I wasn't too thrilled to hear about OkamiCon 2012 coming to theCasaBlancalast Saturday. We didn't get a press release so all I knew was the when and where of it.
But a quick Goggle search, provided me with some background. There would be costumed characters, seminars, demonstrations of popular video, action games and vendors. So I decided to drop by the 10 a.m.-10 p.m. event.
The crowd was light but starting to grow when I got there shortly before 11 a.m.
I quickly learned "the rules:" the costumed aliens, ninjas, Conan-clone warriors and such were not allowed to carry steel weapons, working firearms or anything producing an open flame. Until the evening hours, all costumes were to be G-rated.
There was a wide generational gap between me and most of the convention attendees, so seeing all of the pierced body and facial parts; Mohawkish, rainbow haircuts; vampire teeth; and just strange-looking people of all shapes and sizes, I was comforted by the "no real weapons" ban.
I saw so much I just couldn't relate to or with. One of the presenters at OkamiCon 2012 was to be Anastasia Jablokov, also known as MangaFreak150 on the Internet. The program I received noted her cyber name was appropriate because she's such a fan of "manga." I presume manga has no relationship to the large-seeded fruit with the similar name. But MangaFreak150 has been into "cosplaying since 2008 and hasn't stopped since." Her favorite animes are Cardcaptor Sakura and Black Rock Shooter.
I looked around for a translator who could explain what I had just read. But the nearest person had spiked hair, yellow on one side and day-glow orange on the other.
So I wandered around trying not to be too conspicuous. And it wasn't hard. The people were friendly, not all bizarrely dressed and many were obviously talented.
Artists at one table were drawing original comic-book art for sale on the spot. Muscles and gravity-defying bosoms were their specialties.
A K.O.M.A. Battle Tournament was under way and had drawn quite a crowd around a pair of video warriors wielding their hand-held controllers.
They may have been playing "Ultimate Marvel versus Capcom 3", which was one of the advertised games. Wolverine was spinning and jumping, slicing and dicing opponents across the extra large screen. There were several other battle demonstrations on tap, but I wandered to the next room.
There a panel discussion was going on about an FM radio station – 91.8 The Fan. I noted the program said the station, "provides contemporary-style radio for anime and manga fans, featuring the newest music releases fromJapan,KoreaandChina, as well as information for video-gaming and comic fans." The panel was discussing legal ways to download music and games from the Internet for free.
The screening room was dark during the short time I was at OkamiCon 2012, but it would later be showing episodes of "Hero Tales," "Afro Samurai," "The Count of Monte Cristo" and "Vandread" – the dramatic portions of the popular video games the player wander through..
The final room was full of vendors selling a wide variety of products. Some were original art produced by the seller, some were hawking toys or jewelry.
This wasn't the first OkamiCon convention. But earlier ones had been held inLas Vegas, where most of the vendors had their businesses and homes. This was their first adventure intoMesquite, and Lisa Monroe of OkamiCon Promotions said the event may return if attendance proved good. I hope it was successful. It would make a great annual event – an attraction for a younger group of visitors.
She noted in the OkamiCon program, that "Whether you are an anime fan, comic book connoisseur or a gamer with thumbs of steel, there is something for everyone at OkamiCon."
She was right. There was something even for me. I picked up a glossy comic with art similar to "Heavy Metal." There were typical, bulging muscles but any feminine anatomy was discretely covered. It was a Christian comic book that told the story from God's creation of the universe to the resurrection of Jesus all in 36 pages, interspersed with plenty of advertising.
Try that in any medium other than comics.
Erika "Thrivis" Harm, left, also contributed to OkamiCon 2012 at the CasaBlanca on Saturday, May 19. Harm, who signs her artwork as Thrivis, says, "I like small. I like baseball card sizes, and art that fits neatly within 8.5 by 11 inches or smaller. I can store it any where; it's so easy to take with me." She brought a table full of her art to OkamiCon 2012 for sale and the admiration of participants with the help Donna Batista, also pictured.
Ilanit Moskal of Happy Panda Toys displayed a wide variety of art, models and wind-up toys to OkamiCon 2012. Here she's answering a customer's question about some of the artwork on display. She operates Happy Panda with her husband Rich Moskal inside The Arts Factory in the 100 block of E. Charleston Blyd., in Las Vegas.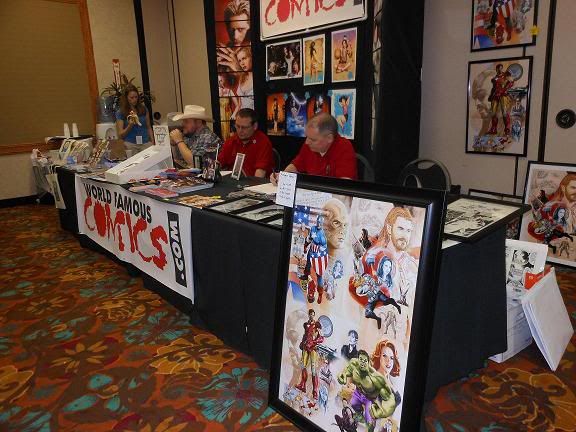 This group of comic artists was selling a variety of comic art at OkamiCon 2012, including some pieces they drew as convention goers watched on.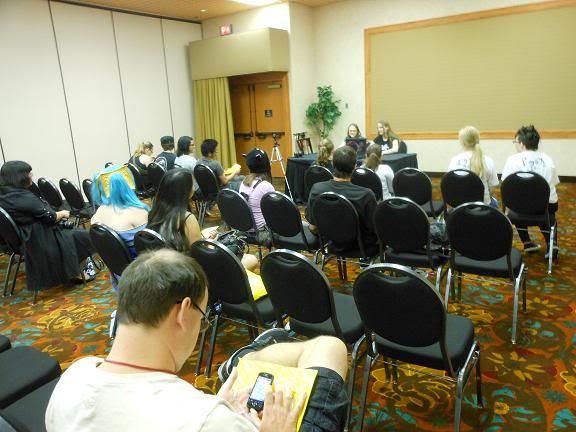 OkamiCon 2012, held May 19 at the CasaBlanca Resort and Casino, included vendors selling comic art originals; classic comics; related toys, t-shirts and jewelry; the "Moonlight Masquerade" when awards were given for the best "cosplay" costumes; and panel discussions. This panel presented "My Life as a DJ – 91.8, The Fan," an FM station, which provides contemporary-style radio for anime and manga fans, featuring the newest music releases from Japan, Korea and China, as well as information for video-gaming and comic fans.